Since 1980, Peter Lustig has owned and operated Lustig Associates, LLC a general contracting and development firm in the Washington, DC area. Focusing on general contracting and new home building for both single and multi-family high-end residential projects, Peter works in/with a varying array of architectural styles.
Peter's interest in interpreting shapes and assembling them into structures began at an early age when he built a backyard tree fort out of discarded building materials from a nearby apartment development. While in high school at Pacific High in Santa Cruz, California, his passion was further energized and encouraged by his science and math teachers with whom he built experimental geodesic dome structures for the campus. During his college years, while working as a carpenter, Peter learned more about combining design with construction techniques.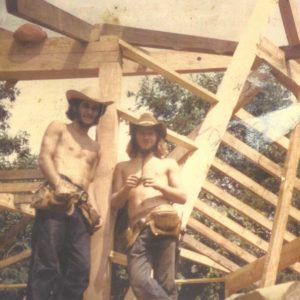 In the 70s, Peter formed a framing and trim subcontracting company in Washington, DC which, by the early 90s, he had built into a general contracting business which eventually became  Lustig Associates, LLC, a development company. As principal, Peter works closely with architects and engineers focusing on the renovation and expansion of historic homes and businesses in the Washington DC area. Throughout his building career, Peter has focused on projects that would enable him to respect the historic integrity of a building(s) and their neighborhoods, while employing designs that would bring a business or residence up to a stylized, modern standard.
Presently, and for the last 15 years, Peter has focused primarily on speculative building projects that he sells in the DC metro area. Peter believes that the building methods for new or renovated homes should go beyond "best practices" and that designs should be architecturally unique as well as respectful to the neighborhood. He believes in sustainable energy consumption and promotes passive solar heating and cooling, direct capture of available resources via solar arrays and geo-thermal heating and cooling, as well as "whole house" insulation and sealing methods using energy analysis software. Finally, whenever possible, Peter uses sustainable building materials, local crafts people and locally sourced products.
Peter studied English at George Washington University and Art History and Business at American University. He lives in Cleveland Park in a house he built, expanded and, as one "in the biz," continues to renovate and improve. A widower, Peter has raised two children (and a dog) on his own.